It was Living Wage week this week, a UK-wide celebration of the Living Wage movement.
Frome Town Council is a living wage employer, and gained accreditation last year.
As well as paying employees a living wage, sub-contractors of the Council should pay the rate to their employees too. The Living Wage is calculated on the cost of living, working out what families need to survive.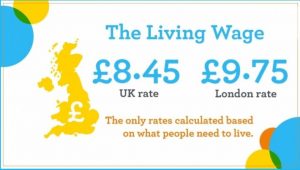 Employers choose to pay the Living Wage on a voluntary basis, many Frome businesses are considering signing up to gain the Living Wage Foundation's accreditation.  Many organisations are seeking the accreditation as a way of showing their commitment to being an ethical employer – in Frome there are a number of Living Wage employers already and Fair Frome is campaigning to get more businesses signed up. Find out more about the Living Wage and what it means for business and workers who receive a fair wage for their work by visiting the Living Wage website http://www.livingwage.org.uk/
To find out what The Living Wage means to its workers see this video here: https://vimeo.com/187643880