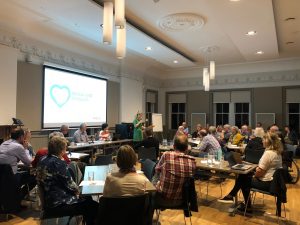 Chair of Town Matters, Councillor Gary Collinson began the meeting by reflecting on the life of Charles Wood and asking those in the room to take a minute's silence of respect. Read more about Charles' legacy here.
The meeting then began with a member of the public commenting that the Boxworks development was a cause of concern for businesses and residents in the area. This led to a discussion around parking in Frome to which Mark made everyone aware that he would be presenting to Mendip District Council regarding the Sunday charges and that at last check the petition had 6,179 signatures.
Ben from OpenStoryTellers who set up a peer support network for adults with learning difficulties in Frome then took to the mic to highlight some of the issues, such as transport and cuts to support, faced by those in the group. He introduced Joe who is an ambassador of the Safe Spaces project which is designed to give people with learning difficulties a network of organisations in the town where they can go if they need help or support while out and about.
As a recipient of funding from Frome Town Council, Lucia Chadwick from Active and In Touch gave an update on their work alleviating loneliness in the community. She paid tribute to Charles who she said 'was Active and In Touch' by giving a few examples of some of the people's lives he had touched. She explained that the group had helped 120 people this year and have 69 active volunteers who are befriending isolated people across the town. She ended by raising the issue of Somerset County Council cuts which will significantly affect the support they are able to offer.
This subject was echoed by Ian from Mendip CAB, who currently have a multi-year agreement with Frome Town Council, and will see a £98k reduction in funding from Somerset County Council from April 2019. The Chief Executive explained that in Frome they had 1,293 new clients and that benefits/tax credits, debt, housing and employment issues where the biggest issues. In response they offer help with managing finances, digital support, energy saving advice and more.
Volunteer Frome gave a brief report on their recent review of traditional methods of volunteer recruitment and have identified some small changes to their current offer which they hope will improve the journey for those beginning their volunteering journey. You can read the report here.
Project Officer, Kate Hellard then updated everyone on the work Frome Town Council have been doing to support community organisations at this time such as looking at how they can diversify income streams. She highlighted Trinity Community Group and the work we have done helping to tackle local issues, such as rubbish through a litter pick and bringing local residents together through a street party. Karen, from Trinity Community Group also shared her thoughts on how vital she felt FTC's support had been in getting them started. Read more here.
Rachel Griffin, Marketing & Communications Manager at FTC, then gave an overview of the Discover Frome Information point which included information about the number of visitors in the last year, and an initiative to pair some of the 30 current volunteers with young people from Frome College. It was also agreed after the success of the last Frome Annual to publish another for 2019. Read the report here.
To end, Peter Wheelhouse, Economic Development & Regeneration Manager presented Frome Town Council's official position statement on the Saxonvale regeneration, which was accepted with a few minor amendments. You can read the statement here. He then spoke regarding town centre improvements including a change of speed limit. The aim is for County Council to implement the 20mph zone in the town centre by the end of November.
Local Police Officers, who were in attendance, then invited anyone who was interested in staying for a chat to join them after the meeting
The details of everything mentioned above can be found at www.frometowncouncil.gov.uk and the next Town Matters meeting is taking place on 14th November. Follow us on Facebook, Twitter and Instagram to keep updated on everything we're up to.