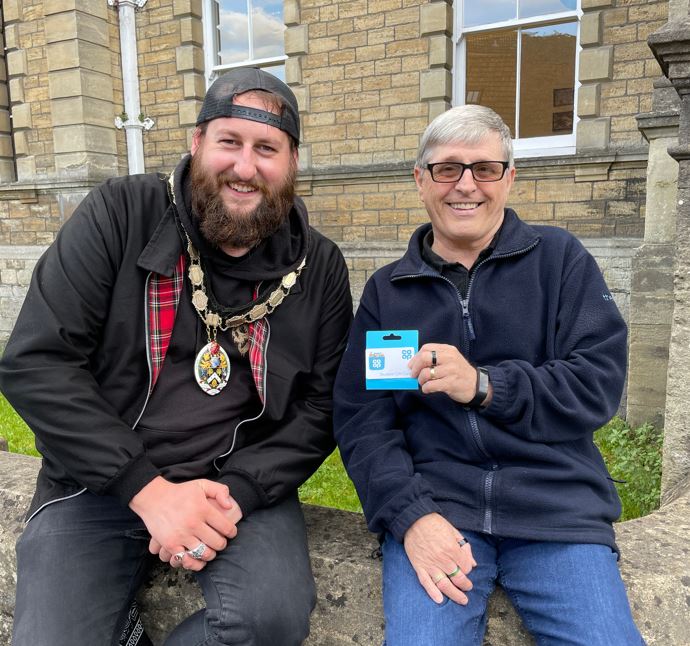 Back in the summer the Green and Healthy for Frome programme launched their town wide survey to find out about the current health and priorities of people in Frome. The team were inundated with responses, the information gathered will now feed into the next stages of the project. Lucky winner Kevin Edgar was randomly selected from all the entrants and won the £100 gift voucher to spend at Culverhill Co-op.
Frome Town Council's Cycle Together programme aims to encourage active travel with their ebike borrowing scheme. The team have invested in further ebikes as the waiting lists grow. Alongside the ebike borrowing, there's 6 hours of guided group rides to build confidence in using the bikes.
The Council's Healthy Homes team in partnership with the Centre for Sustainable Energy have put on regular webinars and drop-in sessions, supporting Frome residents to live in warm, healthy homes – whether that's helping people on low incomes to access financial support for energy efficiency measures, or providing retrofit advice to homeowners wishing to make home upgrades. Almost 100 residents have accessed this advice so far. Additionally, more than 100 residents are being contacted each month via messages sent jointly with Frome Medical Practice, ensuring people who could benefit the most hear about the options available to them in time for Winter.
Frome Medical Practice Green Health Connector Charlotte Carson has trained over 100 people to become Green Community Connectors by exploring how to take positive steps to make a difference to the planet and people's wellbeing, as an individual and as a community. To join them visit their website.
Dr Helen Kingston and wider members of Frome Medical Practice are increasing their focus on supporting patients to make greener health choices. In particular, they are helping patients understand their medication, testing and treatment options as some of these have a lower impact on the environment than others. The practice also continues to support patients with advice to make lifestyle changes that can have big impacts on our health and the climate. Find out more here.
Edventure: Frome has set up Future Shed Frome – a space to come together and create a greener and healthier town by turning ideas into initiatives and action. Future Shed Frome is open for people to drop-in every first and third Friday of the month from 10:30-1:30 at the Welsh Mill Hub. There, people are supported to make new connections, learn new skills, co-work and take up start-up coaching so that ideas for new environmental initiatives can come to life. In addition, the Future Shed team run monthly ideas events and workshops – which have had around 200 participants so far.
The Green and Healthy Future for Frome team will continue working together to ensure there are many ways to live greener and healthier lives in our town. The programme is funded by The National Lottery's Climate Action Fund.