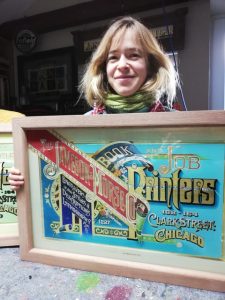 On Sunday 21st July Camilla Rose, traditional signwriter and gilder will be re-gilding the sign above local shop Eyetech as part of the celebrations of the life of John Webb Singer.
Before J.W. Singer owned his world-famous art metalworking factory in Frome he ran a watching making business in the heart of the town centre where Eyetech currently resides. Now, thanks to Frome Society for Local Studies who have sponsored the refresh, the sign will be brought back to life.
The work is part of Casting the World which tells the story of J.W Singer & Sons 200 years after J.W. Singer was born. This includes an exhibition of over 3,000 glass plate negatives and photographs which were nearly lost to history.
Luckily a Singer's employee in the 1970s stopped boxes of glass plate negatives from being thrown into a skip and arranged for them to be donated to Frome Museum. The images show hundreds of the artworks, large and small, produced at the foundry and some of the local people involved in their production.
The exhibition takes place at Rook Lane Chapel from 28th June to the 29th July and will bring to light the incredible archive of images and tell the fascinating story of J.W. Singer and the legacy he created in Frome and beyond.
You can also discover J.W. Singer & Son's history for yourself by following the Singer's Trail made by Frome Town Council.
To find out more about the Casting the World, including an interactive map which shows the most famous works produced by J.W. Singer & Sons, go to www.rooklanearts.org.uk/castingtheworld/