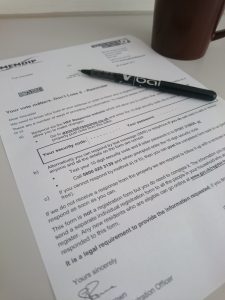 If you live in Frome, you should have received one of these forms from Mendip District Council. All households need to fill in this form, whether you are already on the electoral role or not. Anyone over the age of 16 living at your address must be included. As it states on the form it's important you return it as it is a legal requirement and you could be fined if you don't. Even if your details are up to date, you still need to confirm.
If you are not registered to vote at your address, you still need to do this seperately at www.gov.uk/register-to-vote to be eligible.
So, what are your options? Use any option to confirm your details, to change them use option 1 or 2.Option 1 – Fill it in and send it back!
Is your internet connection questionable? Do you find automated telephone conversations a bit one-sided? Fear not! All you need is a pen, a postbox and the envelope provided, as it's free-post you don't even need a stamp. If the details are correct just sign, date and send. If they're not you can change them this way too, cross out the name of someone who has moved out and add people on page three. Sign, date and send.Option 2 – Confirm/change details online. Fairly simple, however you must provide an email address.
Go to www.hef-response.co.uk
Enter your Security code (in the black box on the front of your letter) and click submit.
Enter your password (also in the black box) and postcode, click submit
Your details will appear. Here you can remove anyone who no longer resides at the address and add current residents. Anyone who is over the age of 16 should be added. You must provide an email address in order to continue (Only tick the box if you want to receive updates)
Click continue
Finally click confirm response.
Option 3 – Confirm by text. Quick and easy as long as you have a mobile phone.
text your 10 digit security code and 8 letter password (both in the box on the front page) to 07507 319820
Option 4 – Confirm over the phone 
The number is free to call. You will be greeted by an automated (but friendly) voice. There are two language options, English or Polish. You will not be held in a queue and it shouldn't take long, however we experienced some problems when trialling this method.
call 0800 025 3139.
Follow the instructions. You will need your 10 digit security code.
You still need to register to vote seperately at www.gov.uk/register-to-vote to be eligible.