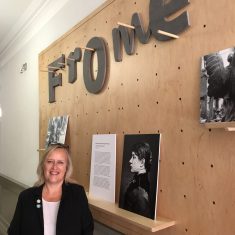 An Exhibition about Camille Claudel is currently at the Town Hall. "Having just read that a museum has opened in France devoted to the work of the French sculptor Camille Claudel I wondered how many people knew that she actually came to Frome in 1886 and that she may well have sat for her photographic portrait." Sue Bucklow, freelance Curator, told Discover Frome.
"It all comes down to J.W.Singer & Sons, the Frome foundry and Art Metal Works started in 1851 by John Webb Singer. He was an enlightened man who not only sent his two sons, but also his daughter Amy to be educated at the South Kensington Schools – which would become the Royal College of Art."
Amy Singer went onto study sculpture at the Academie Colarossi in Paris where she became the studio partner and friend of Camille, along with two other girls. It was this link that brought Camille to England in 1886 to meet the families and visit the homes of all her English friends. She came to Frome in July and extended her stay, enjoying her walks around the town with Amy, but also her tour of the foundry.
As Sue points out, "Amongst all the glass plate images of foundry artefacts that survive from this time it is unusual to find a portrait, and Camille was very interested in making prints from all the glass plate negatives she had of her trip. The opportunity to be photographed at the foundry may well have arose and Camille would most certainly have taken it."
The exhibition at the Town Hall is intended as a taster to let people know a little about the incredible Singer family and their links to artists in Europe. Sue will be continuing her research on identifying the portrait and finding out what happened to the work made by Amy Singer and where it might be found now.
The exhibition can be viewed at the Town Hall until the 15th September.