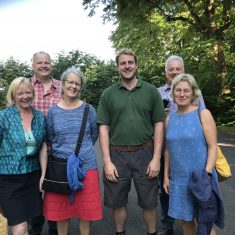 The latest Council Matters meeting saw a change of scenery with a tour of Rodden Meadow and Millennium Green. It was an opportunity for new Cllrs and residents alike to find out more about how Frome Town Council manages these green spaces and what is planned for the future. Watch this space for a video of the tour.
The rest of the meeting took place at Frome Library and as usual began with a welcome from Councillor Shelia Gore. Moving on to questions and comments from the public and Cllrs and Deputy Mayor Anita Collier mentioned that Avon & Somerset Police are working with organisations to provide 'happy to chat' benches helping to combat loneliness.
Following on from the early tour there was an overview of what's been happening in the town's parks and green spaces. It included reports on work that has been recently completed: four Singer's interpretation boards installed in the town centre, play area improvements at Packsaddle and Tower View and a local consultation about Chapmans Close. Ongoing projects included; new Wild about Frome signage and information and finally what' s coming next. You can read more here.
Cllrs then unanimously decided to approve and adopt the updated management and improvement plans for Welshmill and the Roundhouse. The plans included next steps for Welshmill such as exploring new play opportunities, adding more places to sit by the pump track and taking a closer look at the woodland area to identify exciting new opportunities for the space. Find the plans and more information here.
Next Business Manager, Sarah Williams gave a report on the Town Council's finances. She explained a new bank account has been set up with unity trust for deposits and that FTC are exploring Handlesbanken as a more ethical bank account.. The report  here shows income and expenditure as well as spending on items over £500 and the status of reserves
Sarah continued her presentation with an explanation on staff management which summaries policies, appraisals and the staff chart. Read more here. Finally, it was time for the usual health and safety update which showed no further accidents or incidents have been reported. Read the full report here.
The details of everything mentioned above can be found at www.frometowncouncil.gov.uk and the next meeting is Council on 17 July. Follow us on Facebook, Twitter and Instagram to keep updated on everything we're up to.