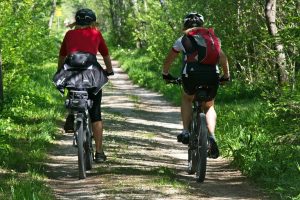 Frome residents can access free training to help them feel confident and comfortable cycling whether they have recently returned to it or tried it for the first time.
Frome Town Council are offering a number of sessions for adults during weekends in September. For those that can ride a bike but want to gain more experience there is a chance to boost biking basics such as using gears, indicating, steering and stopping in a traffic free environment. For the more confident there is training around understanding positioning, using junctions and route planning on quiet local roads. There is also an opportunity to take part in a family ride along the Colliers Way, where you can learn how to ride together as a family in a safe, traffic free area.
Cllr Paul Horton said, "Lots of locals took advantage of our recent Dr Bike Surgeries which offered safety checks and minor repairs for bikes, so why not take it a step further and get your biking to its best with this free training?"
Getting out on your bike is good for your physical and mental health, the wider environment and can be a great solo activity or family day out. The cycle training is a fun, friendly and supportive setting to give old skills a refresh or learn something new.
The sessions will be held in groups of up to 5 people and social distancing will be maintained throughout. They are free with a £1 booking fee and will be held on the following dates:
Saturday 5 September, Saturday 19 September – A family ride to discover the traffic free Colliers Way. 
Saturday 12 September, Saturday 26 September– Beginners coaching session for adults in a traffic free setting at the Old Showfield.
Sunday 13 September – Beginners coaching session for adults in a traffic free setting at Keyford Court.
Sunday 20 September – A bike coaching ride using quiet roads while practicing using brakes and gears, starting and stopping, approaching junctions, traffic islands, riding with others.
Make the most of this opportunity to reignite an old love for biking or a new-found passion and book your spot by visiting: www.buytickets.at/frometowncouncil/395601
Don't forget to also pop along to Frome Town Council's Bike Jumble on Saturday 12th September at 9am-3pm outside Frome Library and grab yourself a biking bargain.
Published 31/08/2020