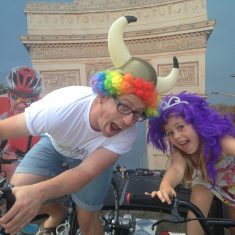 Cycling has really taken off during lockdown and nationwide bike shops have struggled to keep up with demand! If you have been unable to find a bike in stock, then come along to the 3rd annual bike jumble sale on Saturday 12th September.
Organised by Frome Town Council in association with local charity Frome's Missing Links, the jumble will take place outside the library between 9am and 3pm  – all social distancing measures will be in place and sale items will be checked and cleaned before the day.
Second-hand bikes, parts and accessories will be available, with all proceeds going towards Frome's Missing Links, which works to link up traffic free walking and cycling routes in and around Frome. You can find out about their great progress linking the path from Whatcombe Fields to Great Elm and the beautiful Colliers Way here: www.fromesmissinglinks.org.uk
Richard Ackroyd, Chair of Frome's Missing Links and Frome Town Councillor said: "Need a spare part for the bike that's been in the shed for years? Tried to buy a new one but found stores have sold out? New to cycling and need a helmet or bell? Pedals, lights, pumps, brakes – they will all be at the bike jumble at a fraction of the cost of a new one. Expert help will also be on hand. Help Frome's Missing Links make it easier to cycle locally by popping along – you may find yourself a bargain!"
There's still time to donate any unwanted items you have, you can drop any items off at the car park behind the Town Hall on Sunday 30th August 10am – 11am, Wednesday 2nd September 7pm – 8pm and Saturday 5th September 9am – 10am
Photo: local cycle enthusiast Sam Widdows and daughter Poppy enjoying the 2018 bike jumble.
Published 28th August