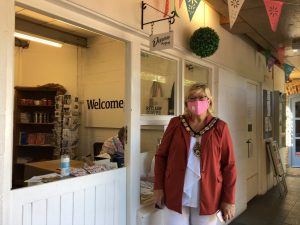 After being forced to close during lockdown the Discover Frome Information Point has once again opened to the public. Based at the Black Swan, Discover Frome is now open Wednesday-Saturday, 11am-2pm and ready to welcome back anyone looking for information about Frome.
Manned by local, knowledgeable volunteers Discover Frome was set up to provide a welcoming point of contact for local residents and visitors alike. New guidelines will be in place to keep everyone safe and well, including volunteers wearing visors and maintaining social distancing. This will enable the volunteers to continue to offer information about Frome and everything that makes it so special, as well as more practical signposting to local services or details regarding transport.
Mayor of Frome, Cllr Anita Collier said, "Throughout lockdown Frome Town Council continued to answer phone queries, but we are delighted to be able to get back up and running and offer this essential service for the town. Of course, for the time being things will look a little different from what we are used to, so please bear with us if there is a longer wait than usual as we continue to help where we can."
The Information Point is more vital than ever during these unprecedented times working to meet the towns needs around advice and information, from maps and leaflets about local events to bus timetables and details about accommodation. The volunteers are a font of all knowledge and can answer most of your burning questions or will find out how to.
Due to volunteer availability Discover Frome will currently be open Wednesday-Saturday, 11am-2pm. This is subject to change so please do keep an eye on www.discoverfrome.co.uk for further information.
If you would prefer not to visit in person there is also the Discover Frome website which offers tips on planning your visit, online maps, information about upcoming events and activities, EBike hire, guided walks and much more. To explore what's on locally go to www.discoverfrome.co.uk
Published 01/09/2020