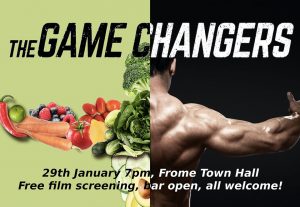 Sustainable Frome and Frome Town Council are hosting a free screening of the documentary  'Game Changers' on 29th January. The film explores the arguments and science around plant-based eating and the health benefits that come with it. The film has attracted some controversy and has been upset some meat industry representatives.
Co-organiser Anna Francis said 'I know several people who have gone plant based as a result of watching the documentary. The environmental and health impacts of plant based diets are now well known and many of the world's top athletes are now turning vegan.
It's really worth coming along to this free screening to see what you think for yourself. Being vegan or following a low meat and dairy diet is one of the top solutions to combat climate change and has never been easier. There are loads of products available now and easy, exciting recipe ideas at: https://uk.veganuary.com/recipes'
To ensure a seat at the screening book a free place at ticket tailor. Our bar will be open.