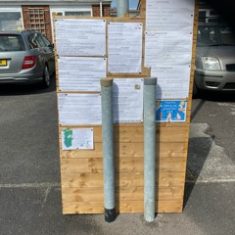 Frome Town Council (FTC) have received a welcome grant of £12,000 from National Lottery funding to help support a growing network of neighbourhood groups that have sprung up around Frome.
Since lockdown, streets have been coming together to support each other both socially and practically; either forming new groups or using an already established group to connect with each other, and their actions have provided a lifeline for some during the pandemic.  FTC's Project Officer Hannah Stopford has been seconded to support the development of the neighbourhood networks, with the aim that these street level groups will be able to link together to share ideas, information and resources, and offer peer to peer support.
The groups that make up the neighbourhood network are all different, there are more established groups, ones just getting started, also those that were formed as a direct result of lockdown. One group in the neighbourhood network was formed pre-lockdown.  FTC held an event back in early March, its focus was how to close your street – for an event such as a street party or fete.  Four of the attendees discovered they lived on the same street and had a joint ambition so walked home together, discussing plans for their event.  Although lockdown may have temporarily put these plans on hold, they found they were well placed to organise a Facebook group to support each other throughout these challenging past months and are already planning for a street celebration as soon as they can.
FTC has also seen other examples, one being a resident who put a letter through his neighbours' doors as soon as lockdown happened, knowing how it important it would be to offer support. They created a WhatsApp group and have been looking out for each other ever since – they've even organised several (socially distanced) front garden concerts, having discovered there were many talented musicians living amongst them.
Mayor of Frome, Anita Collier, added: "Every street is different, and the existing groups we have seen so far have a wide variety of interests, needs, and offers. Some are very small and include ten or so households. Others are large and involve an entire housing estate or several streets. If you have a neighbourhood group, we do urge you to register, we've already seen that we're more than the sum of our parts!".
To join the growing network you can register here: https://www.frometowncouncil.gov.uk/neighbourhood-groups-across-frome/
If you would like some support to set up a group in your neighbourhood, contact Hannah Stopford hstopford@frometowncouncil.gov.uk / 07864 905 854.
Published 2nd September