Over the last couple of days, Cllrs and staff and an army of eager volunteers took to the streets safely, and as part of their allowed daily exercise, to leaflet drop every household in Frome.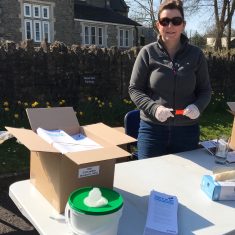 In our campaign to 'Let's get Frome covered', the aim is that no one if Frome is left feeling isolated during these unprecedented times.  We want to ensure that we check in on our neighbours, so have provided a handy cut out form should you be able to safely pop this through the door of someone local to you, to offer any support you can, whether that's shopping for the elderly or simply just a friendly phone call.
The leaflet also includes FAQs with details of help and assistance across a variety of areas. It could be a lifeline to those that find themselves in isolation, who have no support network, family or neighbours willing or able to help.
Following the latest Government advice and Royal Mail guidelines, the leaflets are being delivered to the last few remaining streets today, and this will stand us in good stead for the coming weeks.  All we ask is that you reach out to each other, over the phone.   Our community spirit is one of our greatest assets, let's build on this in the coming weeks and be there for each other.  We're all finding this a little strange at the moment, but let's stay home, stay safe and stay connected.
Here's the link to our FAQs, and if you need anything else, please call us on 01373 465 757.
Published 26/03/2020