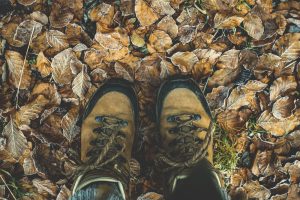 To celebrate achieving Walkers Are Welcome status Frome walkers are holding a free walking event in the town on Sunday the 18th of November.
You are invited to join members of the committee and supporters to take part in walks that celebrate the history of Frome and the town's green spaces.
Registration for the walks will be at 10.30 am in The Cheese and Grain where you will also be able to find much more information on Walkers are Welcome and Walking Groups you may wish to join in Frome. There will be a choice of morning walks between 2 and 5 miles long setting off from the Cheese and Grain, followed by one afternoon walk from the Round Tower at 2:30. 
Mayor of Frome, Richard Ackroyd, said 'Frome is proud of its Walkers are Welcome status and hopes that this award will encourage both locals and visitors to enjoy and appreciate our history and beautiful environment. We have walks suitable for all ages, abilities and fitness levels. It is a wonderful opportunity to discover Frome.  The walks will open your eyes to areas and history you may not be aware of.'
For more information about Frome Walkers are Welcome visit www.fromewalkersarewelcome.org and for more information about the launch event contact Les Stather.
Plaques of Frome (5 miles) – Starts at 11am at the Cheese & Grain. The trail follows the plaques established by the Frome Society for Local Study to explore the rich heritage of Frome through its buildings and the interesting people who occupied them, including figures like poet Christina Rossetti and the Duke of Monmouth, who attempted to overthrow King James II. An easy and interesting 5 mile walk with some hills led by Peter, a Health Walk Leader.
Green Corners of Frome (2.5 miles) – Starts at 11am at the Cheese & Grain. A gentle walk of just over 2 miles led by Health Walk leaders Dorothy-Anne and Tricia. Pavements and hard surfaced buggy-friendly paths introduce the Riverside and the Showground.
Green Spaces (5.5 miles) – Starts at 11am at the Cheese & Grain. A longer walk exploring the beautiful green spaces Frome has to offer. Led by Les from Frome Walkers and Mendip Ramblers.
Creative Workshop – Starts at 11am at the Cheese & Grain. A seriously playful and playfully serious, creative walkshops are walks to inspire your creativity and connect you with your senses and imagination. This one hour taster session will be led by Christina from Write The Map.
Whatcombe Fields and Cottle Oak (4 miles) – Starts at 11am at the Cheese & Grain. A circular walk including Whatcombe Fields, Spring Gardens, Jeffries Lane, Packsaddle Way and Innox Hill. The newly opened Cottle Oak path will also be included. Led by Mike and Jim from Frome Walkers and Mendip Ramblers.
Frome Heritage Trail (2.5 miles) –  Starts at 2:30pm at the Round Tower. The Frome Heritage Trail is a circular walk marked by numbered plaques and focuses on the architectural and industrial heritage of Frome. This walk will be led by Alistair MacLeay from the Frome Society for Local Study. Any donations for this walk are welcome and will go to support the Frome Festival.