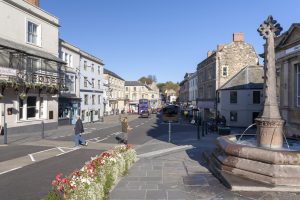 Frome Town Council have agreed to progress a variety of projects to support the local economy and in particular the town centre including a plan for the next phase of Market Place improvements.
The Council are already involved in a range of initiatives to ensure Frome's town centre thrives such as working with Frome Chamber of Commerce to support the retail community through promotion, events and networking opportunities. The monthly Discuss & Do and Business Breakfast events being two of the most popular for organisations looking for advice and support.
A number of other initiatives include working in partnership with the District Council to bring forward a mixed-use regeneration of Saxonvale to include workspace amongst other uses and following consultation with the wider community further improvements to the Market Place.
The Market Place scheme, which was positively received through consultation, will help to make the area more attractive and functional for town centre users.  Measures include improving the bus stops so that buses are off the carriageway when they pick up passengers, providing real time information, new paving and the addition of both a zebra and a courtesy crossing.  A planning application will now be submitted to secure the necessary approval.
The Council is also looking to maximise the event activity on Boyle Cross as an extra to the markets to enhance the offer of the town.
Frome Town Centre remains in a strong position with over 90% occupancy and a vibrant high street economy and so partners at the Chamber and Frome Town Council have decided not to put the town forward for the Future High Streets Fund which the Government is targeting at towns with serious problems.
Mayor of Frome, Richard Ackroyd said, "We are committed to supporting Frome businesses and ensuring a vibrant high street culture. Whilst Frome is not being put forward for the first round Future High Streets funding, the Council is interested in the £55m fund set aside to support the regeneration of heritage high streets when it becomes available."
Ensuring that town centre businesses are heard regarding the challenges they face and the opportunities they see for the future is an imperative. The upcoming Business Lunch on Friday 8 February will be a good opportunity for organisations to meet with local MP, David Warburton who will be discussing what support the Government can offer. To find out more go to: www.buytickets.at/frometowncouncil/148304
To see the next phase market place improvement plan go to: www.frometowncouncil.gov.uk/market-place-improvements