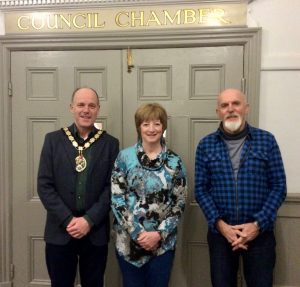 Fair Frome started proceedings with Chair of Trustees, Bob Ashford, outlining their support for vulnerable in Frome including providing emergency food parcels, working in partnership with others to ensure limited food waste e.g. through the Community Fridge and Holiday Hunger for families who get free school meals.
Bob described how, as a local charity, they are able to respond directly, quickly and effectively where needed which was shown in their support of those affected Garston Fire. Bob ended by thanking Frome Town Council for not only the funding they receive but also for the vital on-going support. The mayor responded by saying how grateful the town is for the work they do. You can read the report here.
Next was the work programme for 2019/2020 which is designed to implement the Town Council Strategy. Town Clerk, Paul Wynne explained the work programme which focuses on five key themes: finishing what has been started, being ambitious, more participatory work with community, enabling others to be effective and communicating effectively.
Business Manager, Sarah Williams, took Cllrs through the proposed expenditure required to deliver the work programme. She then identified the income required to match expenditure. Some forecast underspends from the current year combined with a small increase to the Council Tax contribution was sufficient to cover spending. Sarah proposed an increase of 31p a month to Band D Council Tax payers in Frome; a 2.5% rise. All recommendations were agreed by Cllrs unanimously. Take a look at the work programme, staff chart and budget here.
Peter Wheelhouse, Economic Development & Regeneration Manager presented on the suggested partnership with Mendip District Council regarding the Boyles Cross. The plan is that this will mean more activity and events in the area and help to reduce the cost of maintaining the fountain. The approved next steps were to set up a joint committee, finalise a legal agreement and develop a business plan to see this come to life.
Jane Llewellyn, Planning and Development Manager was next on the agenda to talk about Frome Town Council's response to Acorn Property Group and Mendip District Council's consultation about the redevelopment of Saxonvale. All the comments set out in the response form were agreed and will be submitted by the deadline of 28th January. You can read them here.
The details of everything mentioned above can be found at www.frometowncouncil.gov.uk and the next Council meeting will be on 6 March. Follow us on Facebook, Twitter and Instagram to keep updated on everything we're up to.