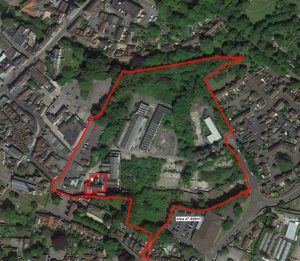 Joint Statement from Mendip District Council and Frome Town Council
Mendip District Council and Frome Town Council are working together with the aim of facilitating the regeneration of Saxonvale. The two local authorities have been in very positive discussions in relation to the disposal of Frome Town Council's land to incorporate in the Saxonvale development so as to enable a more comprehensive scheme to be brought forward.
Cllr Philip Ham, Mendip District Council's Portfolio Holder for Transformation, said; "Mendip made the move to acquire the Notts Industries Land and Terramond land at Saxonvale in August and are delighted to have made excellent progress since then in discussions with Frome Town Council and we are confident about buying their part of land to add to the site.  This means that both Council's landholdings can now be incorporated in to the masterplan.  The draft masterplan produced by Acorn Property Group will be the subject of public consultation starting with an exhibition at the Silk Mill in Frome on 11 and 12 January."
Cllr Kate Bielby, Leader of Frome Town Council said, "Enabling a comprehensive regeneration of this important town centre site has been a longstanding ambition of the Town Council.  From the moment we heard that Mendip had succeeded in their bid to acquire land at Saxonvale, we were keen to explore how the Town Council's land could make a contribution. Talks have gone well and we are now working towards a disposal of our land as soon as possible."
There will be a public consultation regarding the emerging masterplan for Saxonvale taking place on 11th and 12th January 2019.  Acorn Property Group who are promoting and developing the scheme are inviting all to attend a public drop-in event at the Silk Mill Studios and Gallery in Frome to share their views on the future development of the Saxonvale site.
The event will take place on Friday 11 January from 2pm-7pm and Saturday 12 January from 10am – 3pm. To find out more about the consultation please visit: https://saxonvaleredevelopment.org.
For more information please contact:
Peter Wheelhouse, Deputy Town Clerk, Frome Town Council on 01373 475 573 or email wheelhousep@frometowncouncil.gov.uk (until Mon 24 December)
Paul Wynne, Town Clerk, Frome Town Council on 01373 475575 or email wynnep@frometowncouncil.gov.uk (from Wed 2 January)
Published 21st December 2018