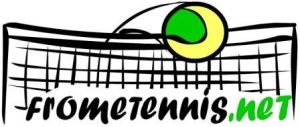 Frome Selwood Tennis Club has launched a new scheme to make tennis more accessible to children from disadvantaged backgrounds. The scheme follows on from the club's recent introduction of a concessionary membership scheme for adults from low income households.
The Club recognises that tennis clubs can often appear to be exclusive and too expensive for some parents and has therefore launched the Reaching Out Scheme for juniors whose parents are on low income and state benefits. The Club will provide half price coaching for 10 juniors and the scheme will run for at least 5 years.
Knightstone Housing Association's Sport England funded project, Creating Active Communities is funding the first 2 years which will give local teenagers the opportunity to engage in tennis at this fantastic club.
The project will be funding a 50% subsidised rate to help and encourage young people who may not have been able to access such an opportunity without this funding in a safe, fun and professional environment. In addition, the first two sessions will be completely free, and rackets will also be available.
In addition, as Junior Members of the club, successful applicants will be able to book courts free of further charge to play other junior members (say during the summer holidays).
Club Chair, John Price said: "Tennis is a great sport, is fun for all levels of ability and its profile in the UK has been raised considerably over the last few years. At Frome Selwood Tennis Club, we see tennis as an inclusive game not an exclusive one, but not every family can afford to send their child along to tennis coaching".
Steve Andrews, Knightstone Housing's Community Empowerment Team Manager, said: "We're very pleased to be supporting an exciting programme encouraging teens in Frome and nearby areas to get active through sports activities. The club allows young people to become involved in tennis in a safe environment, and benefit from professional coaching."
Application is easy. Just email: coaching@frometennis.net or phone the Club Coach – details at www.frometennis.net. The scheme is mainly funded by Knightstone Housing Association who will provide most of the £7,000 required, SASP (Somerset Activity and Sport Partnership), Frome Community Lottery, and Somerset County LTA.
Further sponsors are welcome and will enable the club to increase the number of young people on the scheme. For more information or to discuss helping the club to provide further places on the scheme, please email chairman@frometennis.net.