Over the past 6 months 'Frome Station Friends' have been embarking on a project to clean and tidy the town's station. The team of volunteers have been hard at work making the station a safer and more attractive space for residents and visitors to Frome.
The disused platform has been partially cleared and the group plans to finish the clearing over winter as the plants die back, making weeding easier. The inside of the building has been given an initial clean and options are being explored to improve the look of the platform.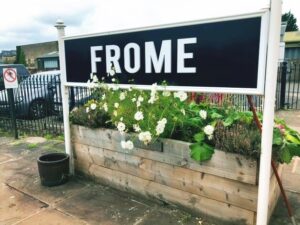 The active platform is getting a lot of attention too – Frome Station Friends will be working with GWR to improve the experience for everyone who uses the train station.
Cllr Steve Tanner, who chairs the group, says: "We believe this is a very exciting period in the history of the station. The surrounding area is becoming a vibrant social space with several independent businesses offering food and a gallery showcasing local artists. The number of trains has increased and usage is rising continually. This extra footfall will hopefully make the station a safer place and encourage the use of active travel to and from the station."
The group has already planted some spring flowers to brighten up the station and hope to install more planters in 2022. They're not stopping there though. The group hopes to be able to share exciting news soon about future plans to really bring the station back into the community.
To join the group or learn more please email Frome Station Friends.