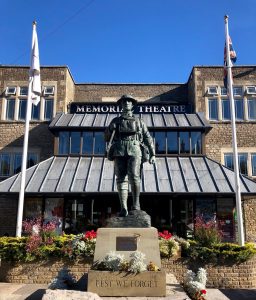 Frome residents are invited to join in the national day of remembrance, paying tribute to the Armed Forces, veterans and their families.
The Remembrance Sunday Parade and Act of Remembrance will take place on Sunday, 10th November.
For those wishing to join the Parade, please gather at the Drill Hall entrance in Keyford by 10.15am.  The Parade Marshall will detail off contingents at 10.35 with the parade starting at 10.45.  The short march will arrive at the Frome Memorial Theatre garden at 10.52 and the Act of Remembrance will begin at 10.55.
At 11 o'clock a two minute silence will be observed followed by the laying of wreaths and a service.
It's hoped that Ron Stone, 99 year old WW2 Royal Marine and Burma Veteran will read the Kohima Epitaph, with contributions during the service from choirs and the Frome Town Band.
Whatever the weather, the Royal British Legion extend a warm welcome to everyone after the service for refreshments which will be served in the Assembly Rooms behind the Memorial Theatre.
In the evening there will be a further Service of Remembrance at St John the Baptist Church, Frome with Parade of Standards.   Mr David Warburton MP and Mayor, Cllr Mark Dorrington,  will be present and contributing with readings.
For further details or to lay a wreath in a personal capacity, please contact Jane Norris, Chairman, Frome RBL – email jane.norris9@gmail.com  or call 0777 620 8531.