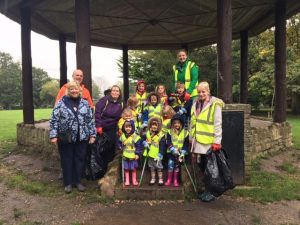 Frome's Mini Litter Warriors join the battle against rubbish
This week saw the first litter picks from Frome's youngest litter warriors.  Picking litter at Victoria Park, Bright Stars Nursery fully embraced being mini litter warriors, and did amazingly well launching this pilot project. Even the rain didn't put them off!
The mini warriors were able to recycle a number of plastic and glass bottles and drinks cans.  Anita Collier, Frome's Deputy Mayor, said, "It's great to see Bright Stars being the first nursery to get involved and we hope many other nurseries will follow in their footsteps. The children were able to identify between what was litter and what could biodegrade and what items could be recycled which was a great learning opportunity."
The Litter Warriors have a full schedule of litter picks, the next meet falling on spooky Halloween, Thursday 31st October. A family-friendly zombie litter pick has been arranged, meeting at 2pm outside Tescos in Stonebridge.  Feel free to go dressed up or get into character on arrival with our helpful facepainters and help clean up the streets in the spookiest of ways….
Following this, the next little picks are:
Saturday 16th Nov 10am: The Dippy – Meeting at the Co-op
Thursday 5th Dec 2pm: Dyers Close lane (Trinity) Meeting by The Griffin
Saturday 21st Dec 10am Singers Knoll
If there is an area of Frome that you would like the Litter Warriors to add to their list, then please do get in touch with the Litter Warriors via Frome Town Council on info@frometowncouncil.gov.uk
Published 17/10/19