Paying it forward is the act of buying something for someone you don't know, and may never even meet. Paying it forward can brighten someone's day, and it also creates a chain reaction encouraging more people to get involved.
When you see a 'Pay It Forward' sign in the window of any shop or business around Frome, this means that when you buy something for yourself, you could buy a second for someone else.
The scheme was originally promoted by Mendip Health Connections, and since then has seen fantastic uptake all over Mendip. Hayley Morgan, Project Worker at Frome Medical Practice, says that "Health Connections Mendip, who are employed by Frome Medical Practice, went round local businesses and shops in Frome and introduced the idea to them. We wanted to shine a light on it and encourage more people to get involved".
Frome is full of independent businesses, and many of these have been taking part in this scheme or giving back to the community in their own way. For example, Hunting Raven Books, Home In Frome and Lo Rapitenc are just a few of the businesses involved in this scheme.
Hunting Raven have been using left-over Pay It Forward change to pay for children's books for our local primary school libraries. Keren Hayden of Home In Frome who also supports the idea adds: "This scheme is so essential as there are so many people struggling – every little helps".
Olly Wright, Chief-Executive of the Riverhouse Cafe explains how essential the Pay It Forward scheme is to so many.
"We have been running our pay it forward scheme for about the last 5 years, and there has been a tremendous uptake.
At our previous site, we had it set up where people would buy a drink, and that would get put forward, but now we are at the Black Swan we have developed it further. We now offer discount items on the till, either a pay-it-forwards drink or bap, ranging from £2.50 to £5, and we cover the difference.
In Frome, there is still a struggling economic pocket alongside the prosperity the town has recently seen. It feels good to offer something more 'pro-bono' to feed back into our local social and public welfare."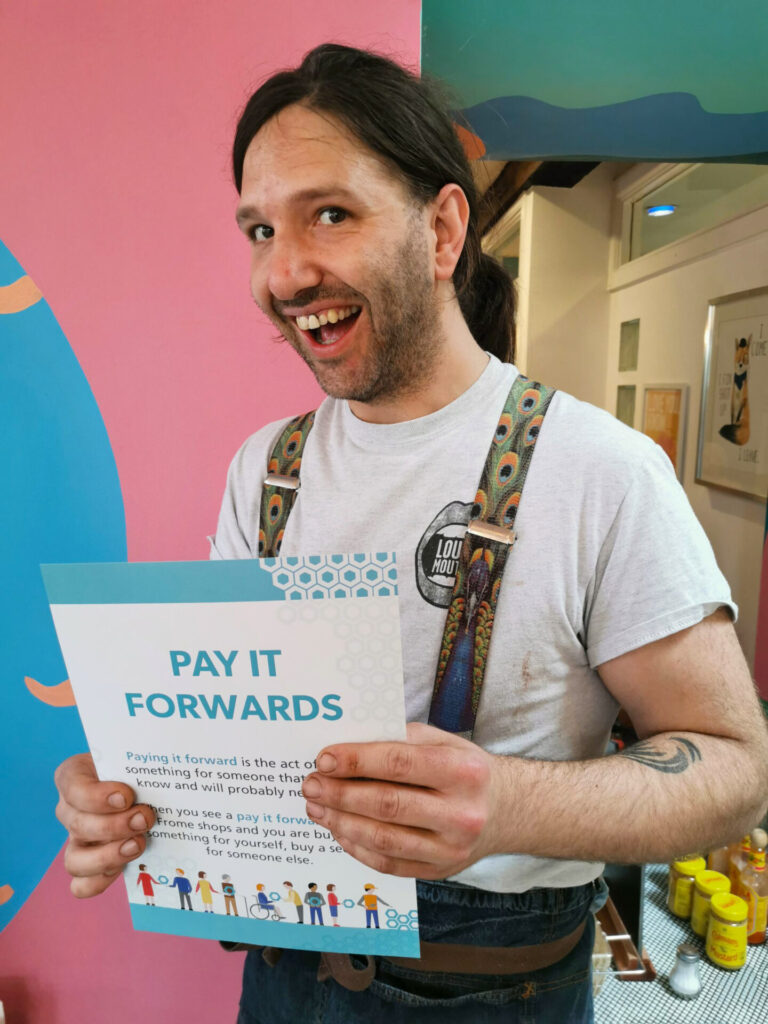 So, if it's a coffee, a meal or a book that you would like to pass on to others then Frome businesses have got you covered.
These aren't the only ways to give back though, Nomad Supply Store, an independent business located on Catherine Hill, has been donating 10% of all skateboard-hardware purchases to raise funds for our local skate-parks. Local charity Active and In Touch has received assistance and donations from a great number of Frome businesses, such as Harris & Harris solicitors, The Cornerhouse, Frome Wholefoods, Archangel and many more.
There are also many other ways you can give back to the local community, such as donating food or your time to the Community Fridge. This is currently located just behind the Frome Town Hall and aims to cut down on Food Waste.
If you own a business and you would like to get involved with the Pay It Forward scheme, please contact mendip.healthconnections@nhs.net and they can assist you further.