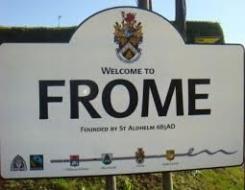 Frome is one of the best places to live in Britain! That's the verdict of the Sunday Times in their special feature that was published yesterday. This will come as no surprise to many who live in the town. But this accolade will help to spread the message to others that may be tempted to come to the town especially entrepreneurs who are attracted by the lifestyle and affordable property.
The article highlights some of the attractions of Frome including its creative energy, the Silk Mill and vintage shops. On a practical note, the Sunday Times refers to the popularity of the town with young families keen to take advantage of property prices that remain relatively low.
Commenting on the recognition Frome has received, Frome Town Council's Leader, Councillor Mel Usher said,
'Ah! Another accolade for Frome.
It still makes me proud to see the name of the town up in lights.
I have said frequently over the last few years that we need to create a buzz about the town if we want to ensure that investment continues and so that residents can feel proud about living in Frome.'