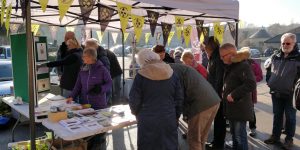 Last Sunday Frome Walkers are Welcome organised a free walking event to celebrate achieving Walkers are Welcome status. People were invited to choose from six walks that explored the history, architecture and green spaces of Frome. Residents and visitors alike aged from 8 to 80 joined in with the walks and more came along to find out about walking routes and groups in Frome.
Comments from walkers during the day included a lady who had lived in Frome for over 30 years who said she had learned a lot of fresh information about the town on the walk. Also, several people who were new to Frome said they found it a very useful introduction to the town and its history.
Frome's Deputy Mayor Mark Dorrington addressed the crowd before they set off on their walks. He commented on how becoming a Walkers are Welcome town compliments Frome Town Council's work to promote Health and Wellbeing whilst benefitting local businesses. He said: "These walks have been really informative.  Supporting walkers are welcome is a no brainer for the council:  more walking is good for the environment, good for the town businesses, it is always good to get to know more about the town and ultimately good for health."
The Frome Walkers are Welcome committee will now build on this success and continue promoting walking in Frome. More walking events are planned for 2019, plus the committee welcomes your input by sharing your walks with the group and, if you're a local business, displaying the Walkers are Welcome window sticker.
More information on walking routes, walking groups and future events can be found here: www.fromewalkersarewelcome.org or you can call into Discover Frome Information Point at Black swan Arts to view a range of walks.