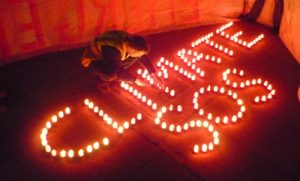 Frome Town Council is set to discuss declaring a 'climate emergency' at the next council meeting on the 5th December.
Anna Francis, Frome Town Council's Resilience Manager said 'We have less than 12 years to switch away from fossil fuels to avoid the worst impacts of climate change. Councils around the world, including Bristol City Council, are declaring an emergency and urging the government to act swiftly and support these vital aims, we hope Frome can do this too.'
Councillor Peter Macfadyen said 'The good news is reducing carbon emissions also increases energy security, improves air quality, minimise fuel poverty, boosts the local economy and provides jobs and training.'
As well as increasing temperatures and more extreme weather, human activities are also having a massive impact on nature. The worldwide population of mammals, birds, fish and aquatic creatures, amphibians and reptiles have plunged by almost 60 percent, since 1970. Extinction rates are 100- to 1,000-times higher than the 'standard rate' of extinction. There are also huge health impacts associated with fossil fuels, for example, air pollution causes 40,000 excess deaths every year in the UK and reduces average life span globally by 2 years.
Frome Town Council is proposing to bring their target for switching away from fossil fuels such as oil, coal and gas to 2030. Anna Francis added 'The shift to clean energy is totally possible. If we insulate buildings and reduce energy demands we could meet our energy needs with a mix of a few wind turbines, solar farms and hydro. This would mean that the town was not reliant on importing polluting and increasingly expensive fossil fuels and would help us ensure that everyone can afford to have a warm home.'
For more information on this area of work visit: www.frometowncouncil.gov.uk/clean-future or join the council meeting at 7pm on 5th December at Frome Town Hall.