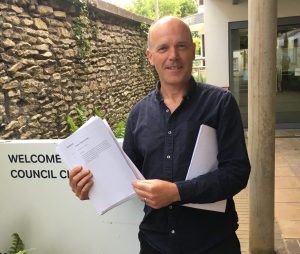 Frome was strongly represented at last night's Mendip Cabinet meeting when the proposed increase in car park charges was discussed.  Led by the Town Council's Leader, Toby Eliot, a group comprising representatives of the Town Council, the Cheese & Grain, The Frome Independent local chambers of commerce as well as some, but not all, of Frome's local district councillors made a strong plea that Mendip should think again before introducing higher car park prices and Sunday charging in Frome and Shepton Mallet.
In doing so they gave voice to the 6000 people who had signed a petition led by the Town Council calling for Mendip to withdraw their proposal to charge on a Sunday.  The petition was formally presented at the meeting by town councillor, Richard Ackroyd.
In the event, Mendip's Cabinet chose to make a concession to The Frome Independent and Shepton Mallet Sunday markets.  On the Sundays when those events are held, there will be no charge.  But on other Sundays, there will be a flat rate charge of £2 for parking in Mendip's car parks.  Other proposals that will see general car park charges and season ticket/ permit charges rise were approved by Cabinet.
Commenting on the outcome, Toby Eliot said, 'I would like to thank personally all those that signed the petition and others that made representations last night.  It's clear that the strength of feeling had some impact and we won some concessions. I don't believe there would have been any movement from Mendip had there not been such a strong campaign from Frome.  But we are still concerned about the impact of Mendip's decision to charge on other Sundays.  The Cheese & Grain and other venues have attracted some important regional and national events over the years on the back of free parking and, importantly, the use of the space in town centre car parks.  We understand that some of those events are now in doubt and this will undoubtedly have a knock-on effect on footfall in the town centre.
I said at the Cabinet meeting last night that the District Council is fanatically clear in its corporate strategy 'Shaping the District 2017 – 2020' that its aim is to 'increase economic vibrancy' of the district. But the decision not to extend the concession made to The Frome Independent to other important Sunday events indicates that it's a greater priority for Mendip to increase its income than it is to support and grow the economies of the towns it represents. This unfortunate decision will not help local businesses at a time when we need to be doing all we can to boost town centres. I call on Mendip to think again about this in the upcoming 21-day consultation period.'
Frome Town Council are collating a response to Mendip District Council about this decision.  If you would like to register a response please ring 01373 465757 or email parking@frometowncouncil.gov.uk
Speakers at Mendip District Council cabinet meeting
%CODE1% %CODE2% %CODE3% %CODE4% %CODE5%%CODE6%