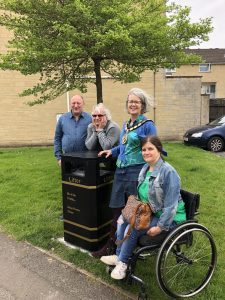 The Bin it for Trinity campaign is picking up, with Frome Town Council supporting Trinity Community Group in their mission to eradicate rubbish by providing a brand-new rubbish bin and notice board.
Mayor Sheila Gore joined the group for the reveal of the new bin: 'We are delighted that the bin has finally been unveiled  – a collaboration between the Trinity Community Group and the Town Council where the community has identified a need and the council are able to provide the resource.  A new Noticeboard expected shortly will also help to provide a centre piece for town and community information alike.  It's great to see the emergence of this new community group as a force for change.'
The community group, fed up of people leaving their rubbish on the streets, were delighted when the Town Rangers put the new bin in place. They hope it will encourage more passers-by to pick up after themselves and keep the area much cleaner. The new community noticeboard is to follow soon.
If you're planning a litter pick in your area then don't forget the Council also has equipment to borrow: litter grabbers, hoops to hold out litter bags, gloves and high vis jackets. Or there's something else you want to tackle in your neighbourhood? Just get in touch with Community Development Officer Kate Hellard.