Frome Town Council is absolutely thrilled at the huge numbers of people (in excess of 4,000) who turned out to have fun at the town's Snow Ball themed Extravaganza on Friday evening.

The town centre was filled with stunning and engaging projections, transforming Frome's historic buildings into festive figments and works of art. The Coventry Building Society was transformed into a giant gingerbread house and buildings such as Rook Lane, Ellenbray, the Frome Museum and the Cheese & Grain were illuminated also.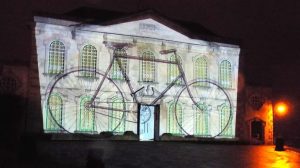 Despite the drizzle and cold weather many donned costumes to join in with the various events going on round the town, including a masquerade ball in the Market Place. There were hot food and drink stalls, live music and a host of children's activities in the Library and combining to what was a really special evening. There was even (bubble) snow!
Thanks to everyone who worked so hard to make it all happen. You can check out photos and videos from the event on our Facebook page and below! Photo credit (above) John Millins.