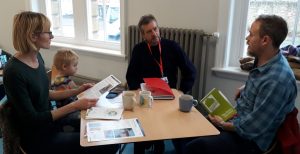 Frome Town Council and National Energy Action are offering a free half day training session to enable people to support others in reducing their energy costs and address the impacts of fuel poverty.
Cllr Ali Barclay said, "We're encouraging any residents interested in learning how to support their families, friends and neighbours to manage their energy use more efficiently to join us and help to cut costs and carbon."
Taking place on 15 January from 10am – 1pm at Frome Town hall the course will cover how to identify those at risk of fuel poverty, health impacts associated with cold homes, how to read electricity and gas meters and calculate energy consumption, reducing energy use through insulation and sources of advice and assistance.
Anna Francis, Frome Town Council's Resilience Manager said, "There are 440 excess winter deaths each year in Somerset. The training is for anyone who wants to understand more about how to make homes warmer and reduce damp and other cold home impacts."
Frome Town Council and Fair Frome are also running a free weekly energy café at the Town Hall every Tuesday from 10am – midday until the end of February, to help residents reduce their energy bills and carbon emissions. People who attend the training could potentially help with these information sessions or can just use the information to help friends and neighbours who might benefit from cutting their energy costs.
The course includes refreshments and a light lunch. To book a free place on the training session visit: http://buytickets.at/frometowncouncil/221094