Following their swap event in December, SHARE are holding a second swap – this time with the aim of finding a new home for your unwanted gifts – maybe you received something for Christmas that didn't quite fit the bill but someone else would really appreciate? Come along to Frome Town Hall on Saturday 18th January from 10am-12pm to bring, swap and buy, the planet friendly way!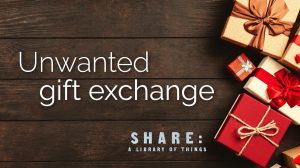 You can bring along any kind of small item received as a gift or suitable to give as a gift, including clothing, accessories, books, homemade items like crafts and preserves, music and household objects. For every item you bring, you'll get a ticket to choose a new item to take home with you. You can also donate items in advance which will be sold for donations on the day, or even if you don't have any gifts to swap, please do come along to browse anyway, there will be items to buy for a donation to SHARE.
Items can be dropped to the Town Hall in advance and refreshments will be available. Come along and find neglected gifts a loving home!
Also, did you get any unwanted smellies for Christmas? On behalf of Refresh, the Town Hall are also taking in any unwanted toiletries which you may have received over Christmas. Refresh is the schools-based project that provides toiletries and sanitary protection for vulnerable teenagers in disadvantaged families – please donate what you can.