Local photographer Dave Povey is selling prints of his work featuring famous Frome streets and natural landscapes to help raise money for Fair Frome. Mr Povey's exhibition will run until 31st January at Frome Town Hall, with prices for framed photographs ranging from £10 to £35.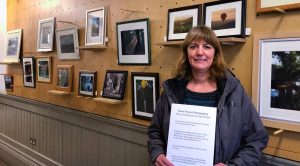 Fair Frome are preparing for another busy year running their many projects which include the food bank, Holiday Hunger and Food at Five schemes, and furniture and appliance recycling. Last year, a total of 2,750 people benefitted from projects run by Fair Frome, who rely on the financial support of the local community.
You can view the exhibition at the Town Hall and purchase prints in cash from Monday-Friday during Frome Town Council's opening hours. The prints are available in different sizes and on canvas by request to the artist. All profits from the sale of the work will go directly to Fair Frome.
For further details on Fair Frome, head to their website: https://fairfrome.org/
Published 14/01/20