On Saturday (11th March 2017) residents of Frome got a chance to make direct decisions about how local budgets are spent by choosing from a list of 17 events which they would most like to see funded. Frome Town Council set aside £30,000 for Events in Frome this year, invited the organsisations to pitch for the money and invited the public to apply to be part of the panel who decide where the money should be spent.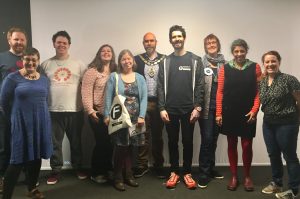 Kate Hellard, Community Project Officer said "The way it works is that the self-selected panel were invited to the Football Club to listen to 17 pitches from varying organisations. Those organisations were asking for £82,000 in total and so a scoring process whittled down the projects the audience wanted to support to a value of £30,000. "
In the end seven very worthy projects received funding: School Travel Challenge, Fair housing for Frome, Cycle Powered Cinema, The Big Disability Diversity Day, Word Up! Frome FM Party in the Park, and the Lantern Procession.
The overall winner was the Sustainable Frome and the Missing Link with the School Travel Challenge and the Cycle Powered Cinema. Ruth Knagg said of the process: "It has been an illuminating day, much better than I expected." And when asked to comment further replied: "Its great to know that the good people of Frome are behind cycling. They have decided to fund these projects and so the next decision that they get to make will be what film to watch so keep an eye out for details!"
Alison Keyes from new group Fair Housing for Frome said: "The money will make it possible to raise awareness of the housing crisis in Frome for people on low incomes. More importantly it is a tremendous boost to know that other people care about homelessness as much as we do."
Lisa Millard was awarded the largest amount for her literacy initiative Word Up! "Having worked in schools for the past 14 years I can testify as to how important it is to work as a community to cultivate a love of words and an understanding of the power of words. Schools are doing everything they can to raise literacy but it is not their job alone."
Frome FM were another winner: They have been up against it this last year with a number of changes and see the support for the Party in the Park as a vindication of all their hard work. Helen Ottaway was keen to say that they were delighted and hope to feature lots of community groups and organisation at the Party. The Big Disability Diversity Day by the Open Storytellers and
another worthy winner will have a similar community content.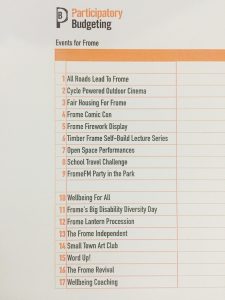 Mayor Toby Eliot said, "Today has been an important start to widening political participation in Frome. The people that turned up to the football club today gave up their time to understand the options, think about the possibilities and decide how £30,000 of public money was to be spent. This is just the start for greater public engagement in decision-making. There are two other PB process due to run this year and we hope that even more people will be involved."
Residents had to preregister to be included in the panel to ensure that numbers did not get out of hand. However, on this occasion all 100 people who had registered were invited.
Toby Eliot stated, "This is the start of opening up democratic decision making. I hope many more people will chose to participate in future events. My thanks to everyone who took part on Saturday."This initiative is part of a wider movement called Participatory Budgeting (PB), which is a way for local people to make choices about how local money is spent. This is one of three PB votes that will be taking place in Frome.
 The next question to be asked of the public is: Do we need loos at Victoria Park? And, if we do, would we like the existing ones refurbished, new loos entirely or a new purpose built café which would be able to be used in all weather with toilets that were integral and the responsibility of the café.
For full details of the pitches please go to PB Brochure for web
Elsewhere
This vote is one of three Participatory Budgeting votes that will be taking place in Frome.
Click here to find out more about Vote 1: Packsaddle & Tower View
Click here to find out more about Vote 3: Victoria Park
Click here to visit the main PB page on our website
This page was last checked & updated on 20 March 2017