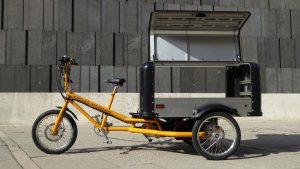 Delivery riders, sustainable transport enthusiasts and businesses who want to, or are already, delivering products locally are invited to get together to explore a shift to sustainable travel.
Edventure Frome, with support from Frome Town Council, are keen to learn whether local businesses feel that there is a need for a better, cleaner, greener and more Frome way for companies to deliver products locally.
Mayor of Frome Mark Dorrington said, "This is a great example of one of the ways we could work together to help tackle the climate emergency we're all facing. It would be great if in the future we could see all local deliveries in Frome done by electric bike, so I'd encourage innovative and creative enterprises interested in taking the idea forward to come along and start the discussion."
The informal networking and brainstorming session will take place at The Welsh Mill Hub on 26 September from 3-5pm. Together attendees will discover whether there is an interest in helping to make the local logistics sector more sustainable and brainstorm options. There will also be a quick tour around Cycles Maximus, an electric rickshaw builder at the Welsh Mill.
Find out more about the event here.
Published 19/09/2019