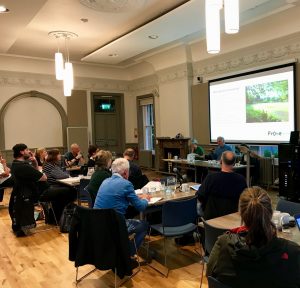 September's Council Matters meeting started with a welcome from Chair, Cllr Shelia Gore and quickly moved into as presentation from Neil Cameron from Frome Allotment Association (FAA). He explained that FAA manage all the allotments in the town. He gave an overview of the types of allotments we have in Frome – from accessible raised beds to larger plots and praised the working relationship between the FAA and Frome Town Council (FTC).
A report from Environment Manager, Chris Stringer, followed. There are eight sites in and around Frome which offer 232 plots to residents. There are currently 153 people on the waiting list, with most people receiving a plot within two years. You can find out more here.
Cllrs then unanimously approved and adopted the new management and improvement plans for Victoria Park and Mary Baily, although they wanted to consider further the proposals for increased tree and hedge planting as there was some concern about the loss of grass for running about on. And for Victoria Park next steps involve improving the public toilets, winter care for the café and planting around the bandstand. Get the full details here.
Next, Marketing & Communications Manager, Rachel Griffin gave an update on the Town Hall. The news was all positive with feedback and statistics showing that the building is a vibrant and well-used community facility for a variety of interesting organisations and events. The highlights were that hiring targets have already nearly been met with half a year still to go. Find out morehere.
The meeting then moved on to a brief report on finance from Business Manager, Sarah Williams. She gave an overview of Frome Town Council's (FTC) income, expenditure and reserves as well as highlighting that the Annual Return March 2019 has been audited with no concerns. Details can be found here.
It was then time for a discussion on the possibility of supporting Frome Selwood Tennis Club with their plans to install floodlighting at the community tennis courts. Results from a second consultation show that generally people are in favour of the idea to help grow community use of the courts. Cllrs decided to discuss the project further and revisit at the next Council Matters meeting on November 6th. Read the report here.
An overview the town's parks and green spaces was next on the agenda and showed just how much has been happening in Frome's great outdoors. It included information on work that has been recently completed: a new community noticeboard at Edmund Park, bins installed at Whatcombe Fields and many summer events from MeadowFest to street art, to PACT meetings, cake sales and Rock the Park. Then ongoing projects: a planting project for the town and discussions with Mendip District Council about potentially new areas to manage. And last but not least what's coming soon, such as preparing for Apple Day on 20 October and Frome Fireworks on 2 November, both at the Old Showfield. You can read more here.
The details of everything mentioned above can be found at www.frometowncouncil.gov.uk and the next meeting is Council on Wednesday 6th November. Follow us on Facebook, Twitter and Instagram to keep updated on everything we're up to.