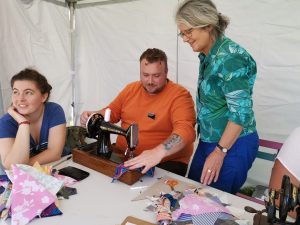 Frome's community bunting project got off to a great start this weekend thanks to the local community. Hundreds of flags will start to be put together ready to adorn Frome's streets by the end of June 2020 to celebrate 20 years of Frome Festival.
Frome Town Council held two make and create sessions to launch the project which aims to make 1,000 meters of repurposed fabric bunting to brighten up the town for Frome's many community events such as the Carnival, Festival and more.
The events took place on 14 at the Frome Cheese Show and on 15 September at Frome Town Hall and saw a real mix of ages and abilities stopping by to give it a go. A man who had never sewn anything enjoyed it so much he stayed for half an hour making multiple bunting flags, and children who hadn't seen a sewing machine before learned how it worked and had a go.
Cllr Shelia Gore said, "Thank you to everyone who has already got involved in this project, there is still lots left to make and we need your help to make it happen – whether you have spare material to be recycled or a passion for sewing. It's another small step towards helping the town become as plastic free as possible and also a chance to spend a few hours doing something you love, learning a new skill or meeting new people."
The next event bunting event is planned at Repair Café on 20 October at Welshmill Hub from 3-5pm, where anyone can stop by to upcycle donated fabric into colourful bunting.
Frome's Women's Shed are leading the project going forward and are a drop off point for any fabric donations as is the Share Shop. Anyone interested in helping to make some community bunting can stop by the Shed, which is based in Welsh Mill Hub on Park Hill Drive, Monday's 9am-1pm. To find out more please email info@frometowncouncil.gov.uk