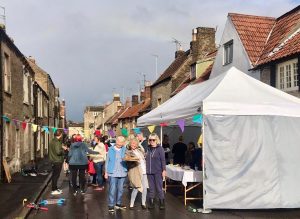 The success of a recent street party organised by Trinity Community Group is serving as a great reminder of just how fun getting to know your neighbours can be. The group closed down Selwood Road to bring the community together for a street party in late September and were overwhelmed with the positive feedback.
Local resident, Anni Tuffnell, said "It was great to see how different our road felt once the cars were gone. Children were out playing almost immediately, and I met several of my neighbours whom I'd never spoken to before!"
Community events do take a little time, some planning and of course there are some documents to fill in, but Frome Town Council are supporting residents to try and make the process as easy as possible. As well as a detailed how-to information on their website they also offer community groups free hire of a variety of useful event equipment such as gazebos, tables, chairs, bean bags and the much-loved smoothie bike.
Mayor of Frome Mark Dorrington said, "What better way to boost community spirit where you live and get to know your neighbours than a community event? Whether it's a street party, a community picnic, quiz night or an old-fashioned fete it helps to unite people, make connections and create a great atmosphere in your neighbourhood."
Community groups organising their own event could also benefit from a Mayor's Small Grant up to £300.  There is no deadline for these applications, and they are assessed on a rolling basis until funds are depleted. Find out how to apply at www.frometowncouncil.gov.uk/grants
If you're feeling inspired to organise your own community event or street party take a look at Frome Town Council's top tips via the following link www.frometowncouncil.gov.uk/organising-a-community-event-street-party/