A substantial agenda meant for a busy and well-attended meeting last night – thank you to everyone who came along! The meeting kicked off with a short talk from Somerset County Council's Oliver Woodhams on the plans for Frome Library. The plan is to expand the number of organisations and range of activities in the Library as well as maintain the "normal" services. A small reduction in the opening hours is also proposed which is to close two hours earlier on a Friday at 5pm.
In a bid to strive for a brighter, cleaner and more polished town, Councillors approved recommendations from the Keep Frome Clean Panel. Included in the recommendations was to recruit an additional part time Town Ranger, meaning more feet and hands on the ground in and around Frome. The town's florals will also receive a boost this year, with work being set into motion in the coming weeks.  If you'd like to get involved with this please get in touch! The Leader of the Council Peter Macfadyen has written an open letter and it provides more detail.
A really good discussion ensued about the work programme, budget and precept demand for 2016/17. Priorities were set out in the work programme under the three main themes running through the Council's strategy for the next 4 years: Wellbeing, Prosperity, and Environmental sustainability.
The work programme included more resources for:
town's green spaces
expanding renewable energy use
waste reduction
engaging with the local community
driving economic growth through a thriving business community
providing employment and opportunities for local people, and
delivering innovative solutions for those most vulnerable in our communities also featured heavily.
You can read the strategy here.
In order to deliver the work programme, the budget for the year starting April was also approved. This included a decision to make a moderate increase in the precept next year, following three years of no increase. Council decided to increase the amount of Council Tax received from householders in Frome by £1 per month for Band D properties. It was noted by Toby Elliot that 75% of households would be paying less than £1 a month more.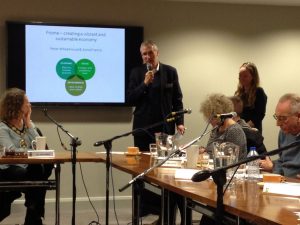 Completing the evening were updates about the town's economic development work with an update from Anna Francis, Resilience Officer and Peter Wheelhouse, Economic Development & Regeneration Manager. You can see their presentation here: Frome – creating a vibrant and sustainable economy.