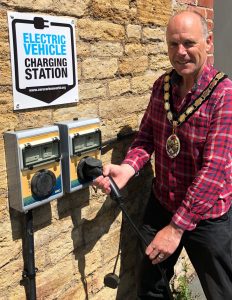 As E-car leaves Frome, Frome Town Council are happy to report Co-Wheels are expanding their fleet to include a hybrid vehicle at the Town Hall.
A convenient and flexible alternative to car ownership they offer membership at just £1 with no monthly charge, which means you pay for a car only when you need it. They even give you £25 credit so you can it out for up to five hours to see if it is for you! 
Mayor, Rich Ackroyd said 'From our volunteer driver scheme to our Active Travel challenge with local schools, there are lots of ways we can work together to cut carbon, costs and pollution. Choosing to use the hybrid car for your next journey is a great step in helping to lower emissions.'
We hope that people will take advantage of this offer, but we know it can be a bit nerve wracking if you haven't used done something like this before so we asked local resident Kate what she thought of using a greener vehicle…
How was your first ride?
It was amazing, I loved it and everyone needs to have a go. It's the future, right here right now, it feels so right! When you see other people in their vehicles with their exhausts pumping out rubbish you think, "why have we been doing this for so long?"
Does renting one suit your needs?
Yes. I'm trying to use cars less, until I get to a point where I don't really need them at all.
What would you say to somebody who was thinking about using one?
Oh, you have to do it! You just have to! It's all very positive at the moment because there are certain things on offer. It makes you smile, it's fun and practical and green, what's not to like?
The current offer from Co-wheels gives you a chance to save money away. Prices start at £5.50 an hour for the Toyota Yaris electric hybrid cars, plus 18p a mile, but that includes all fuel, insurance and other costs.
If you want to find out more and take up the special discounted offer check out the Co-wheels website at www.co-wheels.org.uk/frome.