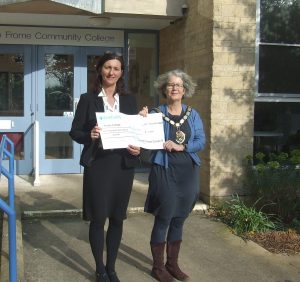 Frome Town Council are welcoming grant applications from community groups and organisations which make a difference to local people.
There are two funding schemes available: the Mayor's Grants which offer up to £300 and Community Grants which can award larger amounts of between £300 – £2,000. While the Mayor's Grants have no deadline, the Community Grants window is now open for applications and will close on Wednesday 4 July.
Councillor Peter Macfadyen said, 'We know Frome has a wealth of community projects doing fantastic work in our town and we want to support them and encourage even more. I urge any groups in need of some extra support to put in an application and make the most of this opportunity.'
The Grants support projects that have a positive impact to the Prosperity, Environmental Sustainability and Health and Wellbeing to people in Frome. Previously funded projects range from community hospitals and children's groups to sports activities and arts clubs. Frome Community College recently received £1,200 for the 'Music for All' project which increases access to music and performance opportunities helping to develop local young people's life skills, build confidence and bring people together.
Application forms for both schemes can be found here. If you have any questions please contact Kate by email or telephone 01373 475579.