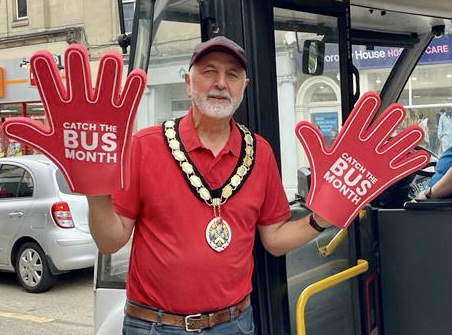 Frome's Mayor is somewhat of a trailblazer among Somerset's Mayors. Leading by example, by backing Frome bus services and supporting the Catch the Bus Month campaign, other mayors across Somerset have also joined in; Bridgwater's Mayor Mick Lerry and Burnham & Highbridge's Mayor, Lesley Millard, are now backing buses too.
The month-long campaign encourages bus usage as a healthy, inclusive and sustainable way to travel. Frome's Mayor Philip Campagna, helped man the bus stall in Frome's town centre earlier in the month, giving out the new bus timetables alongside Frome and Village Bus User Group (FAVBUG).
Peter Travis, Co-Chair of Somerset Bus Partnership and organised the stall, said, "It's great to see mayors across Somerset backing buses and encouraging yet more people to take advantage of the £2 fare and BUSSING IT."
The £2 single bus fare is available until October 31st, from the 1st November, the single fare will increase to £2.50.
The new timetables are available from the Town Hall, and also to download from our transport page.