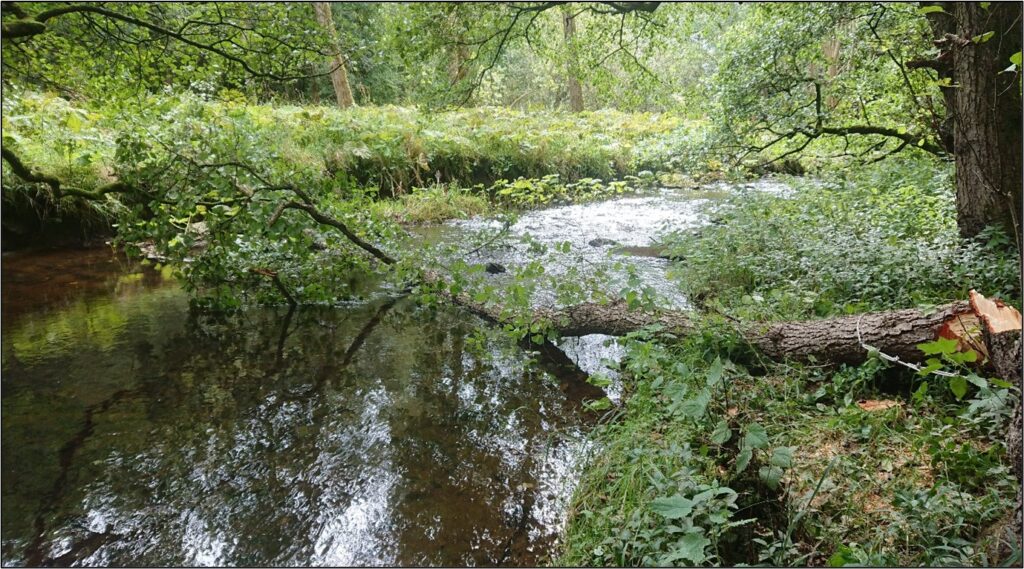 This autumn the Wild Trout Trust with help from the Frome Town Council & Friends of the River Frome will be felling approximately 15 carefully selected trees into the river to create tree kicker features that will increase biodiversity and improve the functioning of the river ecosystem.
The trees selected are mainly single alders from lapsed coppice stools that are no longer managed. The felled alders will resprout, providing low overhead cover for fish. Other trees to be felled include ash trees which are already affected from ash dieback.
What are tree kickers: A felled tree in a river that is securely anchored back to its stump (using 12mm steel cable with a breaking strain of approx. 10 tonnes). The steel cable allows the woody habitat feature to move freely in the channel as the river rises and falls. This is a commonly used low-cost technique in the river restoration sector, used to bolster habitat in high energy channels.
Why do we need tree kickers: Large woody debris is a fundamental component of a healthy freshwater ecosystem but is often absent. Tree kickers provide fish shelter from high velocity flows as well as shade, cover, feeding, spawning and nursery habitats. Large woody material provides a prolific range of surfaces (splits and hollows), in which algae, microbes and invertebrates can colonise. These small organisms are the backbone of the aquatic food web and provide food directly and indirectly for all creatures associated the river and its corridors.
The works will take place on Monday 11th & Tuesday 12th September plus Monday 2nd October, and all works will be conducted outside of bird nesting season. The team have confirmed that all trees to be felled have low/no potential for bats and will be further inspected for bats before felling. Any tree showing potential for roosting bats will be left untouched.
For more information, visit the Wild Trout Trust website.