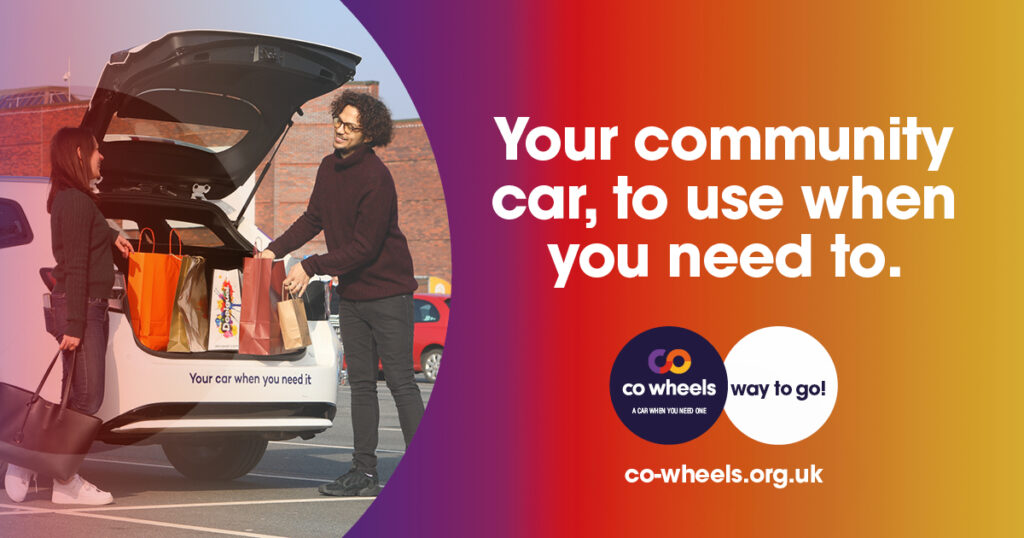 Many people are looking for cheaper ways to travel, but find it tricky to imagine going completely car free. This is why Frome is the proud home of two Co-Wheels car share cars. These cars are pay-as-you-go, meaning you only pay for the time you use it.
Car sharing means you save many of the costs associated with running a car, from insurance, fuel, breakdown cover, servicing, road tax and more. You can also save the hassle of searching for a space to park with priority bay parking at the Town Hall and on Alexandra Road.
All you pay to use the cars is a sign-up fee, and then £5.95 an hour and 22p per mile driven. For most people this means your car-based costs are cheaper. In Frome, you can even use the promo code WAYTOGO code when you sign-up to get £20 of free driving credit.
Cllr Fiona Barrows said, "Car sharing can be transformative. It encourages you to use active methods of travel where ever possible, whilst knowing that a car is available when you really need one. It's a great option for households wanting to reduce from two cars down to one, and can save you a lot of money."
Frome currently has two cars available for use, and Co-Wheels are keen to add a third if Frome's usage goes up.
For more information and to sign up to Co-Wheels, head to www.frometowncouncil.gov.uk/co-wheels-frome/
Frome's community travel support doesn't stop there, with Sustainable Frome's Community Drivers scheme helping to bring community-based affordable transport to those who are unable to transport themselves. And for those who want to get out of the car altogether, the Cycle Together scheme offers sign-ups the chance to borrow an ebike for a month, learn how it can fit into their normal lives, alongside some road awareness training sessions.
To find out more about Frome's sustainable transport options, head to www.frometowncouncil.gov.uk/sustainable-transport/