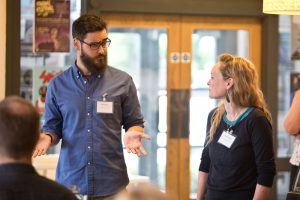 On Tuesday 5th June, the Frome Business Breakfast explored ways for businesses to come together and support each other through joint initiatives, bulk buying, shared waste and recycling options.
The breakfast opened with James from Resident Store who spoke about the upcoming Catherine Hill Pop-Up event, set for the 23rd June. The idea for the pop-up event came from a small team of retailers on Catherine Hill with the goal to showcase the fantastic retail offer that the area provides. They now have a great selection of businesses on board with everything from Hong Kong street food to craft workshops.
Frome Town Council's Charlie Orr and Anna Francis then opened a discussion on how businesses can steer away from single-use plastic and outlined the plan to bulk buy plastic free alternatives through a town-wide order. The project has been met with a great deal of enthusiasm from the cafes, restaurants and pubs of Frome and the Town Council is encouraging anyone who would like to add to the order to get in touch.
JW Waste, who have the motto "Reduce, Reuse, Recycle!", explained how their company handles waste in the local area. Setting out simple options for businesses to join forces by buying sets of recycling bags to share amongst small groups.
Attendees of the event were then asked to identify new ways for businesses to work together. They highlighted the fact that good leadership is key when it comes to collaboration and posed the idea of having a champion from each area of Frome to lead new initiatives.
Champions like Katy Harris, Head Chef of the Cheese & Grain, who is responsible for a number of socially minded Facebook Groups – Frome Community Food Recycling, Wastenot Frome, Lets Recycle Unwanted Stuff in Frome, and Slummy Mummy's Kitchen.
"Today's Frome Business Breakfast totally blew me away", said Katy. "Inspirational, knowledgeable, dedicated people trying to make Frome's local businesses plastic free or as close to that as possible. Local people dedicating their time to make this happen, supporting each other and sharing ideas. Watch this space, these next few months are going to be quite something."
Next month's Business Breakfast will be held at the BlackBird/RedRose Studios on the 3rd July and will be looking at apprenticeships, work experience placements and training courses. Tickets are now on sale via http://buytickets.at/frometowncouncil/148296.