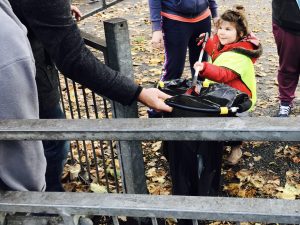 The first Bin it for Trinity Litter Pick has taken place. It was a great success with over 20 people offering their time including the Mayor of Frome, Sheila Gore.   The team met outside the Griffin to collect their bin bags and litter pickers, before heading out to clean up the streets and finished up with a hotdog to celebrate.
An excited troop of kids who were playing out on their scooters were quick to ask questions about the project and offer some assistance.
Two local lads, Isaac Cornish and Toby George, were passing by, and began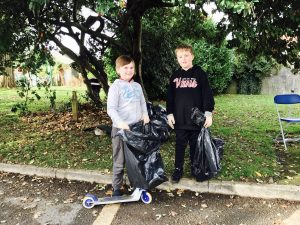 helping without hesitation. Isaac & Toby said "We were just hanging out not doing anything else and we wanted to help make this area cleaner, we've asked for litter pickers for Christmas" Both boys attend Oakfield Academy. A big thank you to them.
Local people commented on how much better the place looked, and some were so inspired that they stopped what they were doing and got stuck in. Friederica Henderson, another resident who joined in said "It's lovely that people are helping the environment. I'm very impressed with the two boys who wanted to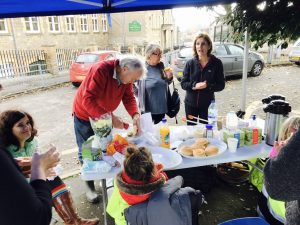 improve their surroundings for others their own age and generations to come. I came, I saw and I was impressed!"
The weather held out right to the very end, and the team gathered back at the meeting point, where Trinity Community Group had prepared some well-deserved refreshments. Tea, coffee, burgers and hotdogs for the hard-working volunteers, including those who we met along the way. Over 10 bin bags of litter were collected. Karen Stewart from the Group said "We're really happy about the turnout and it's great to see people engaged with the community"
The pick was organised by Trinity Community Group and supported by Frome Town Council.  If you'd like to arrange a community litter pick in your area, or borrow litter picking equipment please call 01373 465757 or email info@frometowncouncil.gov.uk