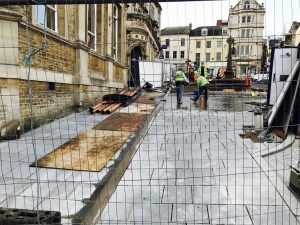 Boyle Cross will be ready for Christmas Light Switch On
Work is now proceeding apace to complete the first phase of work at Boyle Cross.  The new paving and loading bay in the area below the Boyle Cross monument are virtually complete.  High quality Welsh Blue Pennant sandstone is being used for the slabs and setts to match paving in Cheap Street.  Our contractor, Dave Lucey Limited is currently working to form the shallow steps around the cross.  The remainder of the work on the upper section will be completed by 30 November.
The site is still on target to open up the whole area for public access on the first weekend in December.  All the contractor's hoarding and equipment will be removed from site to enable pre-Christmas festivities to take place.  At the same time, Cheap Street will be fully accessible for the first time since the work started.
The first event to return will be our 'Christmas Light Switch On' which takes place on Friday 1 December.  The evening will start with lantern processions through Frome Town Centre, to the sound of Frome's Samba Band. The Boyle Cross market area will feature festive food stalls and sip a cup of mulled wine or cider, as well as children's games, stalls and crafts.  The community will then sing carols to the accompaniment of Frome Town Youth Band to be housed on the lower part of the Boyle Cross around the Christmas Tree.  The Lights will be switched on from The George Balcony as usual and the evening will be finished off with another rousing performance from The Frome Samba Band.
The Mayor, Sheila Gore stated "The site is already looking fantastic and will be a great improvement to the space.  I am really looking forward to seeing the community and the improved space in action together at the Christmas Light Switch on."
The work to replace paving at the lower end of Cheap Street and in front of the TSB bank is now being scheduled for the New Year on a date to be confirmed.  The work will also involve the installation of cabling to power the new fountain and pop-up power points on the site.  We will keep all local businesses and residents informed of the details including timetable.  In the meantime, if there are any queries, please contact Frome Town Council on 01373 465 757 or at info@frometowncouncil.gov.uk