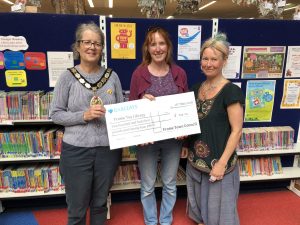 Frome's outgoing Mayor, Shelia Gore has chosen Frome Toy Library as the final recipient of her Mayor's Grants, awarding £244.24 to help them continue their work in the local community.
Each year the Mayor supports a number of grassroots charities across Frome and she has been particularly impressed by the Toy Library as it reduces the need for families to buy lots of toys for their children so it's great for the environment and also supports families by helping to provide a well-used sharing resource.
They have a wide selection of high quality toys to borrow but also games, books and dressing up clothes. There are also twice weekly stay and play drop in sessions where children can simply pick up and play with their favourites or try new ones as well as crafts, song time and a healthy snack shop. To help make sure this well-loved local service keeps going strong, the group are encouraging the local community to become a sponsor.
In fact, Shelia is such a fan she is become their first, saying 'The Toy Library is such a fantastic resource for families in the local area with preschool children. It's an opportunity for both children and adults to come together and socialise as well as having the chance to try out new toys and keep play times fresh and interesting. They do a huge amount on a shoe string budget, so I know that this money will be used really well.'
Organiser Sue Willis says 'Becoming a Toy Library sponsor is easy – sign up via Local Giving at https://localgiving.org/charity/purpleelephant/project/toylibrary/. Each sponsor will get a Toy Library badge, a certificate with a photo of your chosen toy and free Toy Library membership (if your donation is over £10). To make local sponsorship go even further, Local Giving will match the first £250 we raise!'
Toy Library sessions run on Tuesdays at Portway Church from 9.30am to 3.30pm and on Wednesdays at Frome Library from 1.30pm to 3.30pm. Any local organisations interested in donating to the Toy Library should contact Sue Willis.
Frome Town Council has two types of grants, Mayor's Grants which are up to £300 and Community Grants up to £2,000. The next application window will be open for both schemes from 29 May to 9th July. Find out more about our grants here.