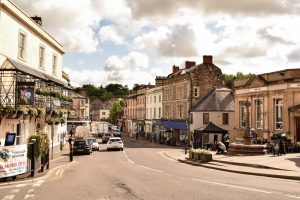 The results from the annual town benchmarking survey are in and local businesses, residents and visitors have overwhelmingly given Frome the seal of approval.
During work experience week in July students from Frome College helped to carry out the market research. They surveyed shops, businesses and town centre users on their likes, dislikes and anything they would like to see in the future.
Mayor of Frome, Mark Dorrington said, "We're delighted that the feedback is so positive and it's great to see our hard work is helping to ensure that Frome has a vibrant and thriving town centre, especially in comparison to the national average. We know there is always more to be done and will continue to offer support for businesses and increase our offer for residents and visitors alike."
Headlines show that 95% of individuals using the town centre would recommend a visit, with many highlighting that they feel it is a clean and safe environment. Businesses were optimistic too, when asked about the future 80% felt their turnover would increase in the next 12 months. Both businesses and individuals were enthusiastic about the markets, cultural activities and events in Frome and felt they really added to the town.
Those surveyed also offered suggestions to improve the town centre. These included free parking and improved security from businesses the and better bus services, cheaper parking and more men's clothing shops from town centre users.
Find out more about the town's benchmarking here.
Published 09/08/2019