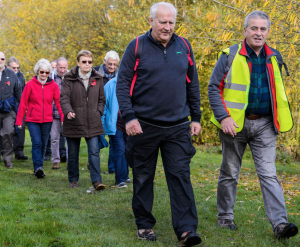 Somerset Activity and Sports Partnership (SASP) have teamed up with Spark and Frome Town Council to get local people thinking more about being active.
A free workshop encouraging people to become #MoveMore Champions is being held on Tuesday 22 January, 2-4.30pm at Frome Town Hall. The session is aimed at anyone who wants to encourage themselves, family and friends to move more and understand why it is hard for some people to do this.
Cllr, Gary Collinson said, "Getting involved with physical activity can help to make us happier and healthier and is often made even more enjoyable when taking part with friends, family and colleagues. This free workshop will give people the tools and skills to not only increase their own fitness, but also those around them."
The workshop is not about asking people to run a marathon or become a gym fanatic, but instead to think about changing habits to add activities into their daily lives so they are moving more and sitting less.
SASP CEO, Jane Knowles said, "As part of our drive to help people change behaviour around moving more, we have put together an informal training session in partnership with Spark and are really looking forward to delivering this and meeting Frome residents in January".
All are welcome to attend regardless of age, disability and fitness level. If you would like to attend, please book your free place through the SASP website – www.sasp.co.uk/events/2019/01/movemore-champion-workshop1