On Monday 19 December, Mayor of Frome, Toby Eliot, joined Active and In Touch volunteers and members to spread some Christmas cheer at their Special Christmas get-together at Trinity Church Hall.
Toby Eliot said: "It was a really lovely event.  We sang carols together, and were entertained by the amazing African Xylophone Ensemble.  It was fantastic to see people making new friends, over a delicious hot dinner."
Charles Wood, Chairman of Active and In Touch, said: "Our annual Christmas party is a wonderful opportunity to bring people together to enjoy each other's company, with some delicious food, mulled wine, carols and other entertainment.  Thank you to all our amazing volunteers who's hard work created a little Christmas magic to so many lovely people.  Around 70 people came along to the event to join in the festivities."
"Our volunteer befriending service provides people with a chance to just chat about things and connect with other.  Our volunteer befrienders can introduce them to other things happening locally, help beneficiaries get around, and to enjoy specific visits to places of interest; all aimed at bringing some missing colour into their lives.  Our services are not complex, but such simple pleasures are big factors in sustaining both mental and physical wellbeing."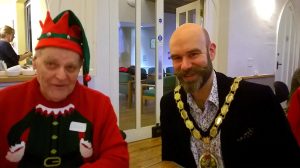 Active and In Touch Frome is currently a Charitable Unincorporated Association, but due to it's growing success is about to become a Charitable Incorporated Organisation, and is run in partnership with Somerset You Can Do who employ the Project Coordinator, register all the project's volunteers and provide training and induction.
Active and In Touch volunteer befrienders spend time with those who wish to use our services, find out their needs and interests, and help them to find their own place in the community.  Over the last three years many different people have been helped by the befrienders, in many different ways and for many different reasons. Currently the project's youngest member is 28 and the oldest member is 100!
Anyone who feels they might like to volunteer their time to help others or who may know someone who might benefit from this support can call Lucia Chadwick or Di Roberts on 07572 854029/ 07468859453, call Somerset You Can Do on 01278 664 180, visit the Somerset You Can Do website on somersetyoucando.com  or send an email to lucia.chadwick@somersetyoucando.org or activeandintouch@gmail.com.
Active and In Touch Frome is also supported by Frome Town Council.  The group shares an office space with Fair Frome at the Frome Town Council, 5, Palmer Street, BA11 1DS.  The office is now manned between 10am – 3pm, Monday to Thursday.