Frome Town Council (FTC) has taken the unusual step of issuing a statement in respect of an active planning application.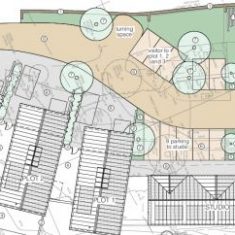 Cllr Steve Tanner, Chair of FTC's Planning Committee said: "We are disappointed that the owner of the land around The Retreat has refused to meet with us until a successful resolution of their planning application.  This, in our view, is pointless given that we want to discuss the application with them. The land at The Retreat at Wallbridge is subject to a planning application which Frome Town Council objected to.
There is another contentious issue in this popular and beautiful part of our town: that of a footpath alongside the river that the developer has blocked. This footpath has been in regular use by local people for more than 20 years and we urge the developer to unblock it while the application to recognise it legally as a public right of way is being determined by Somerset County Council. The London based owner and their Bath based developer are fully aware of the importance of the riverside walk as detailed in Frome Town's Neighbourhood Plan and Mendip District Councils local plan and are knowingly rejecting local development policies."
Cllr Tanner continued: "We feel that the owner and their developer's insistence on blocking access and refusing to discuss this is unhelpful and we can only assume that they intend to block the footpath permanently. We believe that the footpath will be designated a legal right way by the County Council and blocking it is removing a very popular and well used walk for many residents of Frome.
The people of Frome deserve better than this and have shown a wonderful community spirit in these difficult times. The ability to walk along the river as they have done for years is important to local people and supports physical and mental well being. I say 'shame on you' ."
FTC believes that the long-standing riverside path is already an existing right of way and asks the developer to give an immediate assurance that it will be re-instated and retained.
To view the planning application: https://publicaccess.mendip.gov.uk/online-applications/applicationDetails.do?activeTab=details&keyVal=Q94M62KPLNT00